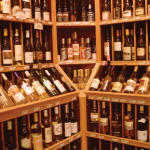 Waterloo Region Food and Drink show is a premiere show presented by Caudles Catch. It will feature fresh seafood tasting stations, bar-tending & cook-off competitions, tasting & pairing seminars, cooking demonstrations and local food sampling.
Exhibitors:
570 News
Acropolis Organics & Ice Syrup
Ascot Chocolates and Fine Teas
Barking Squirrel
Brentwood Livery
Caudles Catch Seafood
Chym FM
Colchester Ridge Estate Winery
Colio Estate Winery
Coopers Hawk Vineyards
Coyote's Run Estate Winery
Cranberry Waterfront Suites & Country Club
Cream Horns
Creemore Springs Brewery
Crystal Clear Water Centres
D'Angelo Vineyards Estate Winery
Designs On Wine
Finest Sausage
Flashpoint Photobooth
Foodlink
Grand River Brewing
Grand River Hospital Foundation
Granville Island Brewery
Guelph Infiniti
Gunn's Hill Artisan Cheese
H.H.D. Imports Inc.
Healthy Products International
Hot Mamas Foods Inc
Jensen Cheese
Joseph's Estate Wines Inc.
Kitchener Market
Kix 106
Lailey Vineyard Winery
Lake of Bays Brewing Company
Long Point Eco Adventures/Burning Kiln Winery
Mary Macleods Shortbread
Mastronardi Estates Winery
Miele Gallery
Misty River Introductions
Mott's Clamato Caesar
Muscedere Vineyards
Muskoka Lakes Winery
My Thai
Over the Limit
Pelee Island Winery
Prince Edward Aqua Farms Inc.
Rockstar!
Rosewood Estates Winery
Sylvia Pond Photography
Smith & Wilson Estate Wines
Sprucewood Shores Winery
The Blue Moon
Thunderstorm Productions
Tourism Windsor Essex Pelee Island
TWC Imports
Viewpointe Estates Winery
Wellington Brewery
Wooden Bear L Winery
Where: The Kitchener Aud
When: April 27 & 28
Time: 3:00-10:00pm
For more information please visit website
365 things to do is brought to you by keithmarshall.ca