KW Polar Bear
Written By: kdmarshall
|
January 25, 2012
|
Posted In: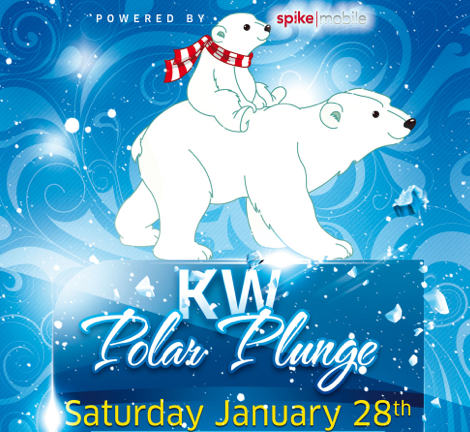 Q: What is the KW Polar Plunge?
A: The KW Polar Plunge is an icy dip into frigid waters in Uptown Waterloo and is a fun and exciting way to support KidsAbility. It's primarily organized, promoted, and conducted by community volunteers in Waterloo Region.
Q: Where does the money go?
A: All proceeds from the KW Polar Plunge go directly to KidsAbility.
Q: Who can participate in the Polar Plunge?
A: Anyone who is in good health can participate in the Polar Plunge. Plungers will need to raise at least the minimum amount in order to earn the "privilege" to plunge. Plungers must be 18 years of age or older to participate.
Q: What is the minimum amount that I need to raise to participate?
A: Individual Plungers need to raise at least $50. All money raised benefits KidsAbility!
Q: Isn't this risky?
A: We want only people in good health to participate as Plungers. No one with heart disease may plunge. We have personnel near the water at all times and medical personnel will be present. The actual plunge is a jump into icy water only to chest deep and quickly returning back to dry land. Swimming is optional. There will be warming facilities available.
Q: Are Plungers crazy to do this?
A: It helps! But remember, our Plungers are doing this to benefit KidsAbility. If you're not into winter water sports, then give generously when a plunger asks for your pledge and donation; and be sure to show up and cheer them on.
Q: How do I register for the Polar Plunge?
A: The easiest way is to Register On-Line at www.kwpolar.com Then click "Register". Registration will also be accepted at the Plunge on January 28, 2012.
Where: Waterloo Town Square
When: January 28, 2012
Time: 9:00-10:00am
For more information please visit website
365 things to do in Kitchener Waterloo is brought to you by the Agents of Change – Alasdair Douglas and Keith Marshall – kwhomesandhouses.com. If buying or selling a home is in your future, interview us to be your agents. We think there is a better way…and so do our clients!
twitter          facebook         FOR SALE         blog
Q: Will I be joining the Polar Plunge?
A: No way. I'll be in the warming facilities.