Marbles Restaurant in Uptown Waterloo
Written By: kdmarshall
|
December 3, 2011
|
Posted In: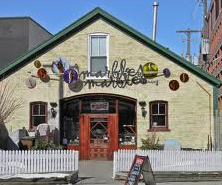 I was out for lunch the other day with my friend Craig Allain. We chose Marbles because Craig works in uptown and it's only a short walk from his office. Also, I live in UpTown and although Marbles has been around since 1977, I never think about going there. It's not hard to find but easily overlooked on William Street between King and Regina.
We both had the basic burger which came with really great french fries. At 12:30 we were at the tail end of a busy lunch crowd. It's a nice little place, kind of quirky, kind of cosmopolitan.
Where: 8 William Street East Waterloo.
For more information please visit website.

365 things to do in KW is brought to you by the Agents of Change – Alasdair Douglas and Keith Marshall – Prudential Grand Valley Realty. If buying or selling a home is in your future, interview us to be your agents. We think there is a better way…and so do our clients!
Marbles is the kind of restaurant that epitomizes Waterloo Region. Try it. You'll like it.
twitter          facebook         FOR SALE         blog