Free GO train rides
Written By: kdmarshall
|
December 18, 2011
|
Posted In: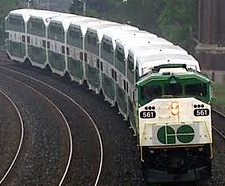 Celebrate the launch of GO rail service. Ride the train for free between Kitchener and Guelph this Sunday.
GO Transit invites families and kids young and old to meet the mascot "GO Bear". Should be a fun time. The round trip will take about an hour.
Where: Via Rail Station, Victoria Street, Kitchener
When: December 18, 2011
Time: 1 p.m. and 2:15 p.m. It departs the Guelph station at 1:35 p.m. and again at 2:50 p.m.
Cost: FREE
365 things to do in KW is brought to you by the Agents of Change – Alasdair Douglas and Keith Marshall – kwhomesandhouses.com. If buying or selling a home is in your future, interview us to be your agents. We think there is a better way…and so do our clients!
The Go train is another example of our growth and our future. Get on the Go!
twitter          facebook         FOR SALE         blog