An Ideal Husband
Written By: kdmarshall
|
December 10, 2011
|
Posted In: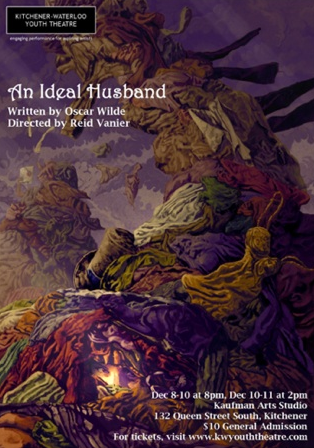 KW Youth Theatre presents… An Ideal Husband is an 1895 comedic stage play by Oscar Wilde. It revolves around blackmail and political corruption, and touches on the themes of public and private honour.
The action is set in London, in "the present", and takes place over the course of twenty-four hours. "Sooner or later," Wilde notes, "we shall all have to pay for what we do." But he adds that, "No one should be entirely judged by their past."
Where: Kaufman Arts Studio, 132 Queen St. S. Kitchener
When: December 11, 2011
Time: 2:00pm
Cost: $10
For more information please visit website

365 things to do in KW is brought to you by the Agents of Change – Alasdair Douglas and Keith Marshall – kwhomesandhouses.com. If buying or selling a home is in your future, interview us to be your agents. We think there is a better way…and so do our clients!
twitter          facebook         FOR SALE         blog