UpTown Waterloo Treasure Hunt
Written By: kdmarshall
|
November 21, 2011
|
Posted In: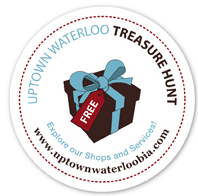 Receive a treasure at each participating business when you explore the beautiful shops and services in UpTown Waterloo. Join the Treasure Hunt through UpTown Waterloo again this year and join the fun.
When you finish the hunt, enter for a chance to win a fabulous grand prize basket.  The UpTown Waterloo Treasure Hunt is fun for everyone!
Pick up your treasure map at any of these retailers:
Blessed Town
Health In Your Hands
Waterloo Public Library
Creative Touch Salon
Queen of Hearts
Relish Cooking Studio
The Atrium
Investors Group
The Art Studios
and others…
Where: UpTown Waterloo, 100 Regina St. South, Waterloo
When: November 23, 2011
Time: 10:00am-8:00pm
Cost: FREE
More information here.

365 things to do in Kitchener Waterloo is brought to you by the Agents of Change. Most people do things a certain way (because they think it's the best way). But what if there's a better way? We think there is a better way to buy or sell houses in Kitchener Waterloo, and so do our clients!
There is a better way, not only to buy and sell homes and houses buy to shop for special, unique and meaningful gifts for your loved ones. Besides going to the mall, don't forget to shop at our local uptown and downtown businesses. We think, you'll be glad you did.