Random Act of Kindness Day in Kitchener Waterloo
Written By: kdmarshall
|
November 2, 2011
|
Posted In: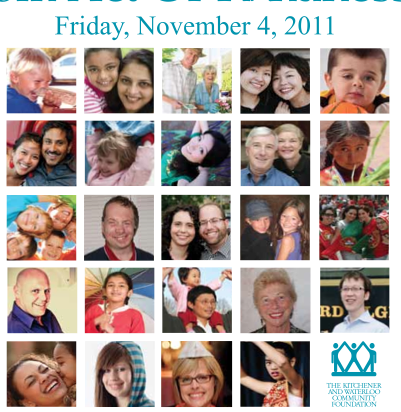 In November of 2008, The Kitchener and Waterloo Community Foundation (KWCF) embarked on a simple, yet extremely meaningful initiative called Random Act of Kindness Day.
With two thoughts in mind – to reinforce The KWCF's vision of building a better community and to encourage the 'pay it forward' philosophy – the day was an invitation for individuals, schools, community groups, service clubs, businesses, schools, healthcare institutions, and churches to join hearts and hands to celebrate the kind and friendly community in which we live.
Random Act of Kindness Day has been a tremendous success with folks from all different walks of life  performing small, simple, kind deeds.
Random Act of Kindness Day has also caused a ripple effect! We're pleased to share that other communities have joined The KWCF and will be taking part in this special day as well. Community foundations from Cambridge & North Dumfries, Orillia and London participated in their first ever Random Act of Kindness Day last year.  Along with the Guelph and Windsor community foundations, there are a number of community organizations across Ontario showing interest for 2010.
Here's how Random Act of Kindness Day® works:
The general pretense behind the day is to celebrate and perform kind acts.  In the weeks leading up to Random Act of Kindness Day, citizens are invited to hand out printed cards (provided by The KWCF) that say "You've been touched by a RANDOM ACT OF KINDNESS."  Card holders are encouraged to hand over the card to someone else and perform a simple kind act for that person (e.g. buy them a coffee, hold open a door etc.)
For more information please visit website
365 things to do in Kitchener Waterloo is brought to you by the Agents of Change. Most people do things a certain way (because they think it's the best way). But what if there's a better way? We think there is a better way to buy or sell houses in Kitchener Waterloo, and so do our clients!
There is a better way. Find out for yourself.   Website    Blog    Twitter     Facebook