Kitchener's Victoria Park
Written By: kdmarshall
|
November 5, 2011
|
Posted In: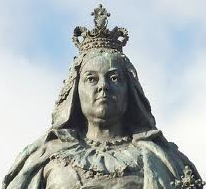 Victoria Park is located in downtown Kitchener. It's just a short walk from City Hall on either side of Courtland Avenue between Victoria Street South and Queen Street South. It is the most popular and largest park (59 acres) in the city, a very serene place to visit.
A statue of Queen Victoria was placed in the park after the city's name was changed from Berlin to Kitchener. Victoria Park boasts beautiful rose gardens and a historic Clock Tower, at the Gaukel Street entrance.
The tower is 36 feet in height and weighs 75 tons. It is capped by a copper dome and large flagpole. The clock tower bell, equal in size to the Liberty Bell of Philadelphia, was purchased by the Berlin (later renamed Kitchener) town council 1876 from a New York firm. It first rang from the tower of the town's fire hall, and then moved to City Hall in 1924 where it stood between the pillars of the clock tower until demolition occurred.
The bell and clock tower were then retired to a city yard. Each stone was numbered with the hope that the tower would someday be re-assembled. After years of planning, re-construction took place in 1995. The clock's four faces were re-built, the mechanism was repaired and the base was accurately reconstructed.
Victoria Park also has a:
Soccer/football field
2 horseshoe pits
Shuffleboard
Fountains
Band shell where local entertainment is offered
Lake frequented by ducks and swans
Restaurant overlooking the lake
Pavilion
d-_-b     d-_-b
365 things to do in Kitchener Waterloo is brought to you by the Agents of Change. Most people do things a certain way (because they think it's the best way). But what if there's a better way? We think there is a better way to buy or sell houses in Kitchener Waterloo, and so do our clients!
There is a better way. Find out for yourself.   Website    Blog    Twitter     Facebook