Cameron Chinese Seafood Restaurant
Written By: kdmarshall
|
November 19, 2011
|
Posted In: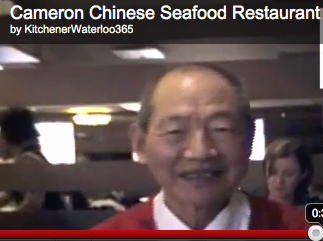 It's been on the corner of Cameron and Charles for about 30 years – the Cameron Chinese Seafood Restaurant has long been a family favorite of mine. I've had many, many meals at Cameron and they've always been authentic and delicious.
Although the new decor changes the ambiance from a old style Cantonese restaurant to a modern, pan-asia style eatery, the service remains old style (which is a good style) fast, "orderly", and efficient – it's still amazing to see a table cleared and reset.
We were there for lunch the other day, a Tuesday, and the place and the parking lot were busy.
It's a great place.
Where: 19 Cameron St. S. Kitchener
For more information check out their website.

365 things to do in Kitchener Waterloo is brought to you by the Agents of Change. Most people do things a certain way (because they think it's the best way). But what if there's a better way? We think there is a better way to buy or sell houses in Kitchener Waterloo, and so do our clients!
There is a better way.