Oktoberfest Thanksgiving Day Parade
Written By: kdmarshall
|
October 9, 2011
|
Posted In: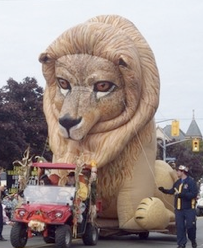 Bands from across North America, spectacular floats and more are featured in Canada's largest Thanksgiving Day Parade. The Parade travels almost 5 km, entertaining a crowd of over 150,000 cheering spectators and is enjoyed nationally on the CTV Network by over 1.8 million viewers. A highlight is the Parade's Grand Marshal whose identity remains top secret until just prior to the start of the Festival (last year it was Dan for Mayor).
Where: Kitchener-Waterloo – Start: King & Erb Streets – Finish: King & Madison Streets
When: October 10 2011
Time: 8:30-10:30am
Cost: FREE
For More information please visit website
365 things to do in Kitchener Waterloo is brought to you by Keith Marshall. I love a parade.
Stay up to date with the issues and happenings at keithmarshall.ca. Recently I talked about the CBC's plan to have a KW radio station.