Experience An 1890s Thanksgiving at Woodside
Written By: kdmarshall
|
October 10, 2011
|
Posted In: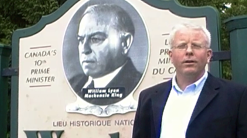 Woodside National Historic Site invites festive visitors to experience an 1890s Thanksgiving at the boyhood home of William Lyon Mackenzie King. The historic house is beautifully decorated for the harvest season. Our authentically-dressed staff provides visitors with a glimpse into the Thanksgiving/Fall celebrations of the King family in 1890s. Pumpkin cookies are ready for sampling. Come and tour the estate and witness the show of fall leaves – and don't forget to bring your camera!
We were at Woodside recently and made this video.
Where: Woodside National Historic Site of Canada, 528 Wellington Street N. Kitchener
When: October 11, 2011
Time: 10:00am-5:00pm
ADMISSION: Adults $3.90, Seniors $3.40, Youth $1.90, Families $9.80
For more information please visit website
365 things to do in Kitchener Waterloo is brought to you by Keith Marshall. Thanksgiving Day dinner takes all morning to prepare, 20 minutes to eat and then all evening to clean up. But, its worth it. Stay up to date with the issues and happenings around KW real estate at keithmarshall.ca. Recently my pal Victor Hussein discussed tip and traps home buyers face.