David Gilmour – The perfect order of things at Words Worth Books
Written By: kdmarshall
|
October 12, 2011
|
Posted In: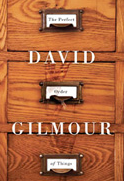 DAVID GILMOUR is a novelist who has earned critical praise from literary figures as diverse as William Burroughs and Northrop Frye, and from publications as different as the New York Times to People magazine. The author of six novels, he also hosted the award-winning Gilmour on the Arts. In 2005, his novel A Perfect Night to Go to China won the Governor General's Award for Fiction. His next book, The Film Club, was a finalist for the2008 Charles Taylor Prize, and became an international bestseller. He lives in Toronto with his wife.
Like a tourist visiting his own life, David Gilmour's narrator journeys in time to re-examine those critical moments that created him. He revisits the terrible hurt of a first love, the shock of a parent's suicide, the trauma of a best friend's bizarre dissembling, and the pain and humiliation of unrelenting jealousy, among other rites of passage.
In fact, here is the narrator of David Gilmour's previous novels writing his own fictional autobiography in a dazzling cavalcade of stories that punctuate a life passionately lived and loved.  Set within an episodic narrative arc, here are stories about the profound effect of Tolstoy, of the Beatles, of the cult of celebrity, of the delusion of drugs, and of the literary life on the winding road of the narrator's progress.
This compelling and deeply interesting picaresque novel is a creative tour de force from the hand of one our master story-tellers. The Perfect Order of Things breaks new fictional ground and is an astonishing story of a life lived fully and with breathtaking passion.
Where: Words Worth Books, 100 King Street South Waterloo
When: October 13, 2011
Time: 7:00pm
Cost: Free
For more information, please visit website.
365 things to do in Kitchener Waterloo is brought to you by Keith Marshall. I write, therefore I am.
Recently on my real estate blog I asked "are rent-to-own programs a wonderful thing"?