365 things to do in KW visits a retail landmark – KW Surplus
Written By: kdmarshall
|
October 16, 2011
|
Posted In: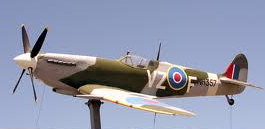 Easily spotted by the tank out front or by the spitfire on the roof, KW Surplus is a Kitchener landmark. Items such as tools, camping, army surplus, electronics, electrical supplies, hardware, computers and parts, audio equipment, housewares, health and beauty supplies, pet accessories, are just some of the stuff you'll find.
The main store also hosts three separate dedicated rooms: The Sound Room for new and refurbished car and home audio components, The Computer & Electronics Room, for new and used computer systems and parts as well as electronic parts, and the latest addition, the Spitfire Emporium for aviation collectables, with the latter having its own entrance at the front of the building.
A bit of history:
A long time ago, two friends shared the same interests and hobbies. They decided that since they had a large collection of "junk" that maybe other people would like to buy some of their "junk". After all, one man's garbage is another man's gold. They became partners of a business is K-W Surplus. The two partners were Ray Whittemore and Bill Ellis. Their business began at 327 Breithaupt Street in 1979.
What did they sell? The stock was anything and everything. Whatever they could get their hands on for a cheap enough price they bought. Though they were sometimes surprised that people bought some of the items they thought wouldn't sell well, their business grew very quickly. The business got too big, or maybe they were buying too many things, some stock was stored a great distance from the store's site. In 1982, only 3 years after opening the store, they had to move to a larger building, thus the store was moved to its current location at 666 Victoria St. North.
The store is consistently busy, with more than 500 people visiting on weekdays, and well over 1000 on weekends. New items are arriving for sale daily, though sometimes it seems like it's hourly. With approximately 12,000 square feet, it can still be hard to navigate through the store on the busy days.
They carry unique and hard to find items such as : Bulk Wire and Rope, Laser Pointers, Parachutes, AC/DC Motors and Fans, Plexiglass, Refurbished Phones and TV Converters, mini video cameras, Used Computer parts, Castors,and Small Craft Tools!
Where: 666 Victoria Street North, Kitchener
For more information, please visit website.
365 things to do in Kitchener Waterloo is brought to you by Keith Marshall. I love this store. I always find things I didn't know I need (like vintage greeting cards).
Recently on my real estate blog I asked "are rent-to-own programs a wonderful thing"?