Centre in the Square
Written By: kdmarshall
|
August 13, 2011
|
Posted In: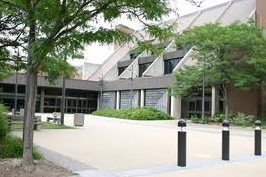 An acoustical and architectural jewel, Centre In The Square, was designed by Rieder, Hymmen and Lobban, and opened in September, 1980. The cost to build The Centre was just over $11 million.
The focal point of the spacious building is the Raffi Armenian Theatre, one of North America's most expansive, acoustically- superior halls. Specially designed to deliver optimal acoustics, performers rave about how they are heard with the same warmth and brilliance in the very last row as in the first.
The 2,047-seat design offers exceptional, unobstructed views of the stage, which is one of the largest stages in North America. As well, The Centre offers state-of-the-art sound, lights and theatrical systems. In addition, a design priority was to facilitate recording and broadcasting.
Located within The Centre is The Studio, a multi-purpose space used for receptions, rehearsals, cabarets and private functions.
Also located in The Centre is the Kitchener/Waterloo Art Gallery which boasts excellent exhibit spaces.
The Kitchener-Waterloo Symphony calls The Centre home for its main performance space. The Symphony acknowledges that the splendid acoustics of The Centre are an important element to its success.
Every year, approximately 190,000 audience members attend a variety of events including everything from dance, symphony, international stars, children's performers, mega-musicals, comedians, to magic and more!
The Centre is also a location-of-choice for corporate meetings and private functions.
The Centre offers a performance space second to none. Areas groups who use The Centre's stage on a regular basis include the Kitchener-Waterloo Symphony, Grand Philharmonic Choir and Kitchener Waterloo Musical Productions.
Owned by the City of Kitchener, The Centre was incorporated in 1981 as a corporation without share capital. The Centre is governed by a 14-member board, which includes the mayor, three city councillors, and eight citizens appointed by Kitchener City Council.
Where: 101 Queen Street North, Kitchener
For more information please visit website