Castle Kilbride
Written By: kdmarshall
|
July 5, 2011
|
Posted In: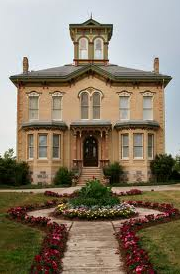 Named after his birthplace in Scotland, Castle Kilbride was built in Baden in 1877 by James Livingston. Seen from the road, it dominates its surroundings with its clean Italianate design capped by a towering belvedere. Its attractive external appearance, however, is overshadowed by its amazing interior decor, which in its own right classifies it as artistry of international significance.
Kilbride served the Livingston family for many years until the builder's granddaughter, Laura Louise, her husband Harris Veitch and family decided to seek smaller accommodation and less onerous maintenance. In 1988 a development company bought the home and the furnishings were sold at a huge four-day auction.
Development did not take place; the home sat empty for five years and the property began to deteriorate.
Local heritage groups, proud of the Township's designated heritage building, were concerned and after discussions with municipal figures, the Township purchased the property and embarked on a program of thorough restoration. Aided by provincial and national funding, the building was designated as a site of national historic significance in March 1994.
Summer Concert Series
First three Thursdays in July and August
Bring your lawn chair and enjoy unique music every time on the front lawn of Castle Kilbride Admission is by donation. 6:30 – 8:00 pm.
July 7 – Traces Steel Band (Caribbean)
July 14 – Crackerjack Palace (60s/70s)
July 21- The Handker Chiefs (Country/Western)
August 4- Cazu (Latin)
August 11- The Edelweiss Trio (Oktoberfest)
August 18- The Shananigans (Irish/Scottish/East Coast)
In partnership with the Stratford Shakespeare Festival Archives, view rarely seen costumes and accessories from notable productions from the Stratford Shakespeare Festival displayed throughout the 1877 historic home.
Where: 60 Snyder's Road West, Baden
When: Open Tuesday-Sunday
Time: 1:00pm – 4:00pm (extended summer hours)
For more information please visit website