Two new exhibitions opening today at Kitchener Waterloo Art Gallery
Written By: kdmarshall
|
June 15, 2011
|
Posted In: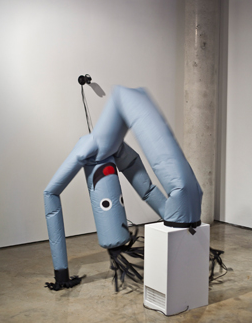 The 5th KW|AG Biennial – The Black and the White: An Allegory of Colour
Ashleigh Bartlett,
Hyang Cho,
Susan Dobson,
Maura Doyle,
Brad Emsley,
Will Gorlitz,
Sarah Kernohan,
Shane Krepakevich,
Jenn E Norton,
Martin Pearce,
Ibrahim Rashid.
Guest curator: Robert Enright
Presented in cooperation with the 
Kitchener-Waterloo Society of Artists (KWSA)
When we use the expression, 'it's black and white,' we speak through a scrim of certainty. We know what we mean; we can easily assign value; we can even remember a time when the words had a moral connotation. But what if the terms are constantly moving, what if their meanings are contingent and provisional, maybe even reversible? What if they are susceptible to all kinds of blur?
The twelve artists who are exhibiting in the 5th KW|AG Biennial recognize the transitory nature of the black and the white. Within what is a limited palette, they have been able to make myriad, and dramatic, meanings. Things are what they seem, and then they are much more. It's in this expansive sense that I am using the term allegory. Allegory is supplement and excess and replacement. When we see a black fountain are we looking at a public monument moved indoors, or a symbol of the politics of oil? Are porcelain bones about making or disappearing? What do portraits of people who have their eyes closed tell us about them, and about us? Who is looking the hardest; who understands the most? What do dead animals in snow tell us about the world we live in, and the world we are leaving for others to live in? What is a painting that is a photograph that is a drawing? What happens when something never stops being replicated?  What is black and white? – Robert Enright
Jon Sasaki: Good Intentions
Utilizing video, objects, performance and installation, Jon Sasaki's work takes cynicism, futility and tragedy as starting points, countering the thematic heaviness with dry, comic delivery. Sasaki investigates an eternal optimism that, while endearing and charming, is filled with the trappings of failure. Given that all actions do not end in a result that one might hope for, the inherent possibility for failure becomes an opportunity to find beauty, or to discover a sweetened sense of the human condition. An unfulfilled promise still has its origins in an earnest belief and still delivers the notion of one who tries… really, really hard.
Sasaki is a self-described romantic-conceptualist who pays homage to always looking on the bright side. Good Intentions will be comprised primarily of videos, including A Wound-Down Watch Coaxed to Run a Bit Longer (2008). As the title suggests, the video consists of a fixed shot of a wristwatch that requires constant intervention to help it keep time or, in other words, retain its purpose. For just over three and a half minutes we see the watch being tapped on a table, the protagonist's hand persisting in coaxing an extra ninety seconds out of it before its ultimate exhaustion. Cycle (2009) depicts a similar relationship with inertia and attempts at perpetual motion. In this video we see Jon-as-protagonist pedalling vigorously on a busy urban street, yet moving at a glacial pace compared to everything else around him. Despite the absurdity of the venture before him, Sasaki persists like someone who doesn't have much to lose. For Sasaki, the allure of the gamble is located less in the hitting of that elusive jackpot than in the tragicomic nature of good intentions.
Where: 101 Queen Street North, Kitchener
For more information please visit website