Tapestry
Written By: kdmarshall
|
June 1, 2011
|
Posted In: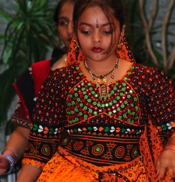 Tapestry is a month-long festival of music, dance, food, art, storytelling and images from this area and from around the world – celebrating our community's great diversity. The festival takes place every June in a variety of downtown venues.
Events that make up Tapestry include:
Our World Festival of Music officially launches Tapestry: Celebrations of Diversity at Kitchener City Hall Civic Square on Friday, June 3 and Saturday, June 4, from 7 to 10 p.m. Admission is free.
Friday, June 3:
7 p.m. – The Belly Donnas, Mandy Habermehl and her troupe of dancers are the area's leading exponents of this Middle Eastern dance form.
8 p.m. – The Bosswich, great tunes in the Jamaican Ska style from a young local octet with enthusiasm to burn.     
9 p.m. – Chasaya Sichilima, Zambian singer and songwriter has developed a sound that incorporated rhythm and blues with traditional Zambian folk music.
Saturday, June 4:
7 p.m.- The Water Boys, based at the University of Waterloo; the area's premier contemporary, pop & roots all male cappella group.
8 p.m. – Septeto, a collaboration of the top Cuban/Latin musicians in Toronto performing classic son montuno, the root of contemporary salsa.
9 p.m. – Western Swing Authority, brings the sound of Americana direct from Canada. Their debut CD recreates the classic sounds from the dancehalls of Texas and the South West in the 1930's and 40's.
tri-Pride week: From May 30 to June 4, and wrapping up with a live outdoor music festival on Saturday, June 4, on Roos Island in Victoria Park, from 1 to 7 p.m. Tri-Pride is the non-profit lesbian, gay, bisexual, transgender, and queer (LGBTQ) pride celebration in Cambridge, Kitchener, Waterloo and area. This family friendly event features a vendors' market, silent auction, barbecue, TD Kids' zone and licensed area. For more information, check out www.tri-Pride.ca.
Romanian Canadian Day will take place on Sunday, June 5, from 11 a.m. to 6 p.m at Kitchener City Hall. The fourth annual event focuses on Romanian culture, history, tradition, music and dance. Enjoy the entertainment, fashion show, food and many vendors promoting their culture.
The Coalition of Muslim Women of KW presents A Day of Dialogue with Muslim Women, a groundbreaking event offering direct dialogue with Muslim women, fascinating insights and true community spirit, at Kitchener City Hall on Saturday, June 11, from 9:30 a.m. to 4 p.m. Learn about how Muslim women live their faith in their everyday lives. Visitors will receive a warm welcome, complete with the unique opportunity to sit down and share one-to-one conversation with Muslim women from diverse backgrounds. The event includes a video, panel discussion, and a Human Library session. Come and get to know your Muslim neighbors! For more information, please visit  http://www.cmw-kw.org or our Facebook page.
Kites of Joy Festival: On Saturday, June 4, from noon to 6 p.m. Neruda Productions offers a chance to experience the joy and freedom of flying kites while celebrating as a community with a colorful array of entertainment, food and stories of the tradition that this ancient art has all over the world. The festival takes place at Victoria Park.
K-W Multicultural Festival: On Saturday, June 25, and Sunday, June 26 the K-W Multicultural Festival will take place at Victoria Park. More than 25 different festival performances of traditional music and dancing, plus international food and craft vendors and local artisans.
Latitudes Storytelling Festival is also in the park during the K-W Multicultural Festival, on Saturday, June 25, and Sunday, June 26, from 12:30 to 5 p.m. This year, the festival has moved off the island; look for storytelling tents on the Park Street end of the multicultural festival. Watch for the Latitudes and Longitudes digital storytelling project, the result of a series of workshops conducted in the community. For complete details, please visit www.latitudesfestival.com or www.latitudeslongitudes.org.
National Aboriginal Day celebrations feature traditional dance and drum performances, children's activities, food, and crafts from noon to 7 p.m. June 25-26, as part of the K-W Multicultural Festival.
For more information please visit website