Rally for Rails II
Written By: kdmarshall
|
June 9, 2011
|
Posted In: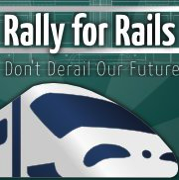 On June 15, 2011, Waterloo Regional Council will make a pivotal choice that stands to alter our community for better or for worse.
The decision to build Light Rail Transit will create vibrant, walkable, LRT-supported growth that will help our community wean itself off the gas pump.
The decision not to build Light Rail Transit will mean painful, sprawling alternatives; traffic conditions like the GTA, and the likely clawback of over half a billion dollars by the federal and provincial governments for more "shovel-ready" projects such as LRT in Hamilton.
Friends, neighbors – we are running out of time, and Waterloo Region's LRT needs your help.
LRT is under serious attack by anti-transit "No to Everything" NIMBYs
They're hijacking community meetings, they're spreading misinformation – anything to keep Waterloo Region from investing more money into transit and better quality of life. They took out an ad in the Waterloo Chronicle ( http://bit.ly/iB6jrf ) that misrepresents the local cost of the project and lies about its tax impact.
Regional Council will not vote for LRT without hearing your support.
Attend the rally! The community needs to see your support right up to the vote on June 15, so what better way to support LRT than a party?
Where: Speakers' Corner (King and Frederick) in Kitchener
When: June 11, 2011
Time: Noon-1:00pm
For more information please visit website