Quilt and Fibre Art Festival Waterloo Region – Quilt Week
Written By: kdmarshall
|
May 24, 2011
|
Posted In: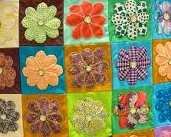 Quilting is an integral part of this region's heritage, so it is fitting that we're known as "The Quilt Capital of Canada". The last week of May is the time when the communities come together to host a variety of exceptional quilting and fibre arts events.
ST. JACOBS QUILT GALLERY
Tuesday May 24 to Saturday May 28, 10:00 am – 6:00 pm
Visit the year-round St. Jacobs Quilt Gallery on the third level of The Mill. The Gallery has an ever-changing exhibit of quilts representing the best of the quilter's craft.
THE GRAND GUILD OF FIBRE ARTISTS
Tuesday May 24 to Saturday May 28, 10:00 am – 6:00 pm
Established in 2010, The Grand Guild of Fibre Artists is an organization who create fiber art for residential, corporate and public settings. Member's work in a wide variety of media and technique to create decorative and functional pieces.
ST. JACOBS TRUNK SHOW
Thursday May 26, 2011: 2 shows – 2:30 and 7:30 p.m.*
*New location: St. James Lutheran Church, 1407 King Street, St. Jacobs
Guest Artist: Rosemary Terpstra of Listowel
Highlights of the trunk show will include: a quilt made from men's suits, full sized quilts with miniature replicas, an experimental 'quilt as you sew,' for children and a surprise quilted article influenced by the International Quilt Festival in Houston!! The presentation will feature a variety of sewing and quilting techniques as well as innovative ways to use colour, fabric, patterns and trendy threads. This engaging and informative talk will surely help you on your creative journey!
For more venues and times please visit website