Making the most of a wee garden at McDougall Cottage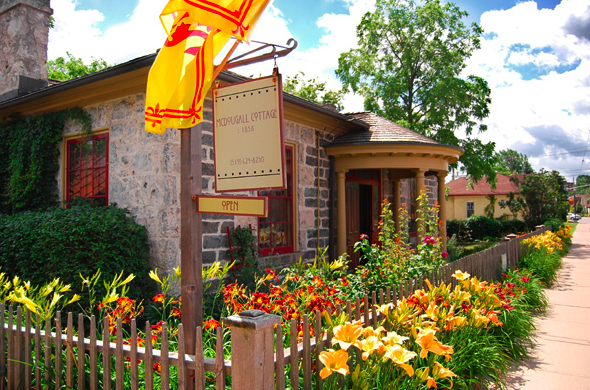 Landscape designer and author Hedi Philippi (Garden LivingsScapes), reveals her secrets for "making the most of a Wee Garden".
Great photos.
Q and A.
About McDougall Cottage:
Historical McDougall Cottage, a c.1858 limestone labourer's dwelling, is open afternoons for visiting Wednesday, Friday, Saturday and Sunday from 12 to 5 p.m., Thursday, 12 to 8 p.m. McDougall Cottage is located at 89 Grand Avenue South in Cambridge on the banks of the Grand River and is owned and operated by the Region of Waterloo. The cottage serves as an interpretation centre, showcasing its unique interior landscapes, presenting exhibits of local interest and sharing research resources with the public.
This charming vernacular cottage, with its equally charming pocket-sized garden has been home of two families of hardworking Scots for more than a century. The McDougalls, born of a Highland clan, first raised its walls using local limestone, dressing its street-side with carefully-matched blocks of handsome granite. By the dawn of the new century, a second family, also from the heather hills of Scotland, had taken ownership of the cottage. Newly married in 1901, James Baird and his wife Margaret, moved in and set about "renovating" their first home. The most fashionable of all the "modern decor" that the Bairds would add to the cottage were the exotic landscapes and trompe l'oeil ceilings that James's brother Jack painted in the young couple's dining room and study.
"Making the most of a wee garden"
Where: McDougall Cottage 89 Grand Ave. S. Cambridge.
When: May 12, 2011
Time: 7:00pm
Cost: We'll pass the bonnet.
For more information please visit website.