Holst: The Planets
Written By: kdmarshall
|
May 28, 2011
|
Posted In: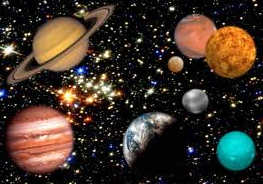 The concept of the work is astrological rather than astronomical (which is why Earth is not included): each movement is intended to convey ideas and emotions associated with the influence of the planets on the psyche, not the Roman deities.
Holst was quite a devotee of astrology, and liked to cast his friends' horoscopes for fun.
The Planets as a work in progress was originally scored for a piano duet, except for "Neptune", which was scored for a single organ, as Holst believed that the sound of the piano was too percussive for a world as mysterious and distant as Neptune. Holst then scored the suite for a large orchestra, and it was in this incarnation that it became enormously popular. Holst's use of orchestration was very imaginative and colourful, showing the influence of Arnold Schoenberg and other continental composers of the day rather than his English predecessors. The influence of the late Russian romantics such as Nikolai Rimsky-Korsakov and Alexander Glazunov is also notable, as it is in Igor Stravinsky's great early ballets. Its novel sonorities helped make the work an immediate success with audiences at home and abroad. Although The Planets remains Holst's most popular work, the composer himself did not count it among his best creations and later in life complained that its popularity had completely surpassed his other works. He was, however, partial to his own favourite movement, "Saturn".
Holst, The Planets: The Director's Cut
Discover the stories behind "Nocturnes" and "The Planets" with Music Director Edwin Outwater and the KWS.
Where: Centre in the Square, 101 Queen St N, Kitchener
When: May 28 & 29
Time: 8:00-10:00pm
Cost: Kids under 14 come FREE to Director's Cut performances with the purchase of an adult ticket. Tickets from $19 / $12 students
For more information please visit website