Happy Cinco de Mayo Celebration in Kitchener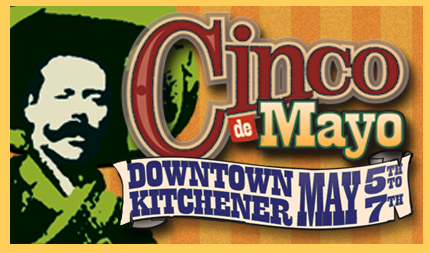 The year is 1862. The French attack Mexico, deciding to conquer it over a dispute about non-payment of interest on a loan. Bullies. The Mexicans out-numbered and poorly equipped win an unlikely victory. The French go home.
This is an (unofficial) Independence Day. For all my self-employed, self-governing, independently-minded friends and me, this is our day. Cinco de Mayo Have a taco and a beer. Celebrate what determination and belief can do.
Celebrations start today at City Hall, with dancers and Mariachi bands taking to the streets…and continues to Saturday May 7th, at the Kitchener Market's free family event.
Join the fun… Kid's piñata's party, dancers, music…
Themed specials at downtown restaurants and bars all week!
Thursday May 5th
Kitchener City Hall — 200 King St. W.
Live entertainment on Civic Square!
Live music starting at 11:00 – 1:30pm
Casa Salsa will be onsite with their food service trailer from 11am – 1:30 pm serving up Latin cuisine.

Friday May 6th
Kitchener City Hall — 200 King St. W.
Live music 1:00pm on Civic Square!

Saturday May 7th
Kitchener Market — 300 King St. E.
Festivities at the Kitchener Market!
Kids Piñata Party, Face Painting, Live music and dance
for more information please visit website