campus pizza – open till 5am!
Written By: kdmarshall
|
May 10, 2011
|
Posted In: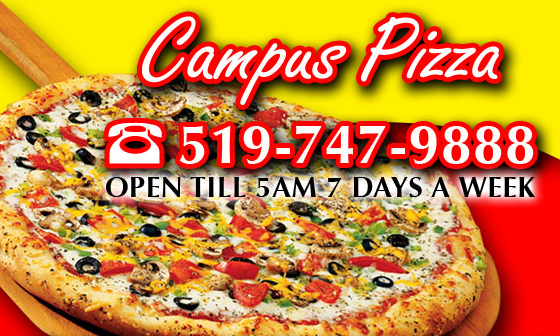 In my daily job, I'm always between places, running around between homes and people and offices… and I'm always between meals. I live a kind of random grab and go life and if it wasn't for pizza by the slice (and coffee), my life wouldn't be half as easy or as fun.
The other thing is, I always like to try new places too. There's a whole world out there to be discovered and although I have some favorite restaurants and coffee shops, given a choice between a place I've been before and one I haven't, I'll try the new one. I guess that's why I started 365 things to do in Kitchener Waterloo – it gives me another reason to seek out new places.
A couple of weeks ago on that one sunny day we had, I happened to be up near the university and visited Campus Pizza.
If you're looking for a quick and cheap and nutritious bite, and you're in this neck of the woods, you can't go wrong with a slice of pizza from Campus Pizza.
Where: 160 University Avenue, Waterloo
Time: Open till 5am – Seven days a week
And they have a website.