Region of Waterloo Rain Barrel Distribution. Get one. Save water
Written By: kdmarshall
|
April 29, 2011
|
Posted In: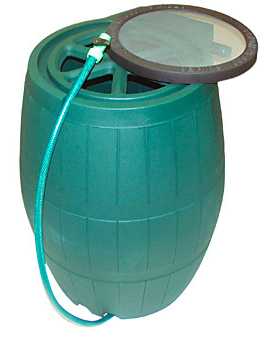 The Region of Waterloo Rain Barrel Distribution program is a one-day only, yearly distribution on a first-come, first-served basis and available only to residents of Waterloo Region. Unfortunately, the Region does not have barrels available for purchase at other times of the year.
History of Rain Barrel Distribution Day:
The Region of Waterloo has distributed 40,000 rain barrels over the last ten years in a program to assist residents who want to save water and be more environmentally conscious. In past years they've said "this is the last year", but that never seems to be true.
I got mine a couple of years ago. There were two transport trailers full at the Conestoga Mall parking lot. I arrived at 7:15 am and the line was already hundreds of people long. The previous year I arrived at about 10am and they were sold out.
The rain barrels are good. Features:
Childproof
Debris/bug screen
Hose attachment
Overflow valve
Aesthetically pleasing planter style, earth tone
200 litre capacity
Interconnect capability
Shout out: Thanks Pat Carr of Sustainable Waterloo for the tip
Where: Conestoga Mall in Waterloo (Zeller's parking lot), Fairview Park Mall in Kitchener (Bay parking lot) and Cambridge Centre Mall in Cambridge (Bay parking lot)
When: April 30, 2011
Time: Beginning at 7:30 a.m. and running until the barrels are sold out.
Cost: $40 cash.
Call 519-575-4021 or email watercycle@regionofwaterloo.ca for more details about the Region of Waterloo's Rain Barrel Program.
If buying or selling a home is in your future, interview us to be your agents. We think there is a better way…and so do our clients!
UPDATE: THE 2012 RAIN BARREL DISTRIBUTION DATE HAS BEEN ANNOUNCED, CLICK HERE FOR DETAILS