PA Day in Waterloo
Written By: kdmarshall
|
April 7, 2011
|
Posted In: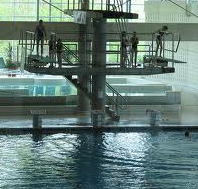 Another PA Day? Don't worry. There's lots to do in Waterloo Recreation Facilities:
*Time Out for Moms, Pops and Tots at Bechtel Park. 9:30-11:30 am. (newborn to 6 yrs)
*Public Swimming at the Swimplex. 1:00-3:00 pm. Diving boards and slide open.
*City of Waterloo Museum at Conestoga Mall. 9:30 am-4:00 pm. Free admission. Current Exhibition: "ICYC…In Case You're Curious".
*Public Skate at Waterloo Memorial Recreation Complex, 4:00-4:50 pm.
*Family Swim at the Swimplex, 7:05-8:00 pm.
*Public Swim at the Swimplex, 8:00-9:30 pm.
Get in on the fun! Regular admission rates apply.
Where: Waterloo Recreation Facilities
When: Friday April 8th, 2011
Time: 9:30am-9:00pm
For more information please visit website.