2011 Kitchener-Waterloo MS Walk
Written By: kdmarshall
|
April 17, 2011
|
Posted In: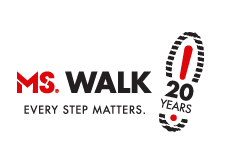 The Kitchener – Waterloo MS Walk! 2011 is the 19th year in this community.
The MS Walk is a critical part of the Society's fundraising efforts and is a significant program in funding research towards a cure for MS. Imagine — just by walking and raising funds, you are supporting a fellow Canadian affected by MS.
From the 100-person Walk in Candle Lake, Saskatchewan, to the 4000-person Walk in Winnipeg, Manitoba, the MS Walk is truly a family oriented, community-supported event that makes a difference in the lives of Canadians living with MS.
With route lengths of 5km and 10km through city streets, Waterloo Park and scenic Laurel Creek Conservation Area.
Join the movement. End MS.
Where: Federation Hall, University of Waterloo, 200 University Ave. W. Waterloo
When: April 17th, 2011
Time: 10:00-11:00am
For more information please visit website.