Mozy's Shawarma
Written By: kdmarshall
|
March 12, 2011
|
Posted In: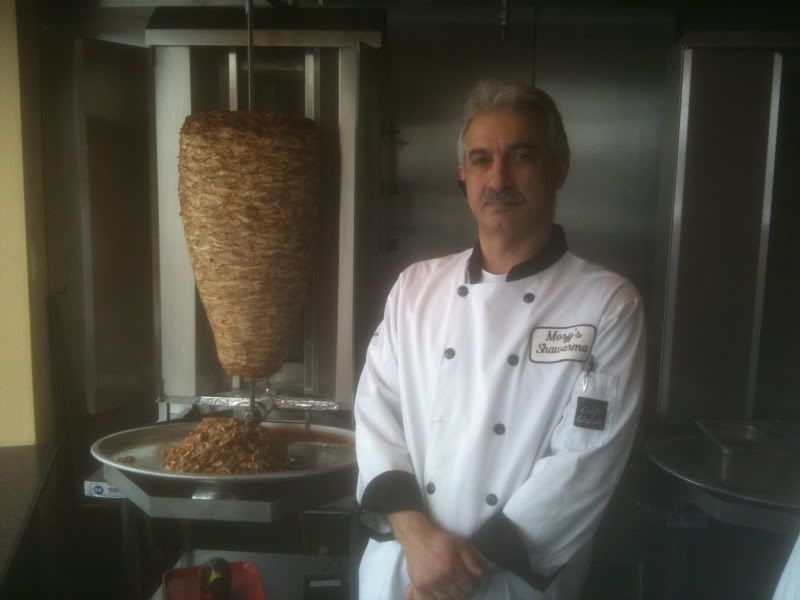 A shawarma is a sandwich-like wrap of shaved lamb, goat, chicken, turkey, beef, or a mixture thereof. The meat is placed on a spit, and may be grilled for as long as a day. Shawarma is a fast-food staple across the Arab world, Europe and the Caucasus.
Shawarma is eaten with pita bread, Lavash bread, tabbouleh salad, fattoush salad, taboon bread, tomato and cucumber. Toppings include tahini, hummus, pickled turnips and amba.
Shawarma is shared by many country variations. In Greece, it is called gyros, meaning "turned". In Armenian, it is "Tarna", literally meaning "to turn", and in Turkish it is called döner kebab, which in turn means "turning kebab". The word shawarma comes from the Turkish word çevirme meaning turning.
I was first introduced to shawarmas in the 1980's when I was a university student in Ottawa. Ottawa had, at the time (and likely still does), a large Lebanese community. With shawarmas it was love at first bite. I ate shawarmas all the time. I knew where the best ones were. I would seek them out, go out of my way to have one.
When I graduated from university, I took an extended vacation to Europe and the Middle East. In Greece, Turkey, Israel and Cyprus I found my favorite food, always prepared a little differently, but always great.
The shawarma is the Middle East's answer to the hamburger. I bet you can find shawarmas in every country in the world. I've eaten shawarmas in Australia and in Taiwan. I cannot bypass a turning spit with out ordering. I've had some very good shawarmas.
I recently had one of the best (if not the very best) shawarmas ever…
Mozy's Shawarma is in the mall on the corner of University and King – the mall which Starbucks has the corner spot, across from Wilfred Laurier University.
If you know what a good shawarma should taste like, you won't be disappointed. If you've never had a shawarma what are you waiting for?
Where: 247 King Street N,
Waterloo