KI-X 2011: Learn in 3D Knowledge Integration Museum Exhibits
Written By: kdmarshall
|
March 16, 2011
|
Posted In: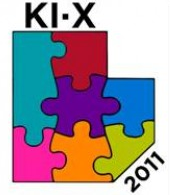 The first cohort of the University of Waterloo's Bachelor of Knowledge Integration program invite you to experience KI-X 2011: Learn in 3D, the culmination of their capstone design project, the Museum Course. For more than a year, the students have been immersed in museums and museum exhibit design, combining self-directed, classroom, and extended group learning in an interdisciplinary experiential learning experience.
KI-X (n): Knowledge Integration eXhibition; a convergence of disciplines, teaching methods and creative minds in an exhibition of topical, object-centric displays.
Touring the exhibits, you will learn why robots may make you feel uncomfortable. Explore forms of peaceful protest and how you might get involved. Learn how limitations in mathematical tools led to the development of new ones. Understand the impact of a concussion, and learn about other neurological phenomena like dreams, or why some people see letters and numbers in colour. Discover how archaeologists determine the purpose of an unknown object, and have a chance to try it out yourself.
Where: University of Waterloo Art Gallery, East Campus Hall, 263 Phillip St
When: March 16, 2011
Time: 12:00-6:00pm
For more information please visit website