KDUB Pillow Fight 2011
Written By: kdmarshall
|
March 31, 2011
|
Posted In: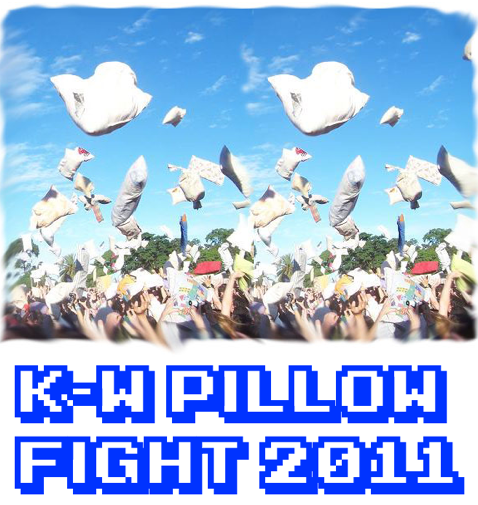 KITCHENER – WATERLOO is officially part of this year's International Pillow Fight Day!
Meet up before 3pm, say 2:45ish. While you wait for the signal why not have a little nap with your pillow, or use it as a seat? Enjoy your pillow while random people wonder what the heck's going on. DO NOT HIT EACH OTHER UNTIL THE SIGNAL!
:::RULES:::
Please follow these guidelines to ensure a safe and fun pillow fight for everybody!
· NO FEATHER PILLOWS
· Wait until the signal at 3pm to begin!!
· Soft feather-free pillows only!
· Do not swing at people without pillows or with cameras.
· Do not hurt anyone. This is for fun!
· Swing lightly, many people will be swinging at once.
· Remove glasses beforehand!
Cleanup: Please do not bring feather pillows. They are messy. By participating, you are pledging to clean up twice the mess you made.
International Pillow Fight Day is an Urban Playground Movement event.
About The Urban Playground Movement
All over the world, groups like us organize free, fun, all ages, public events. From a massive Mobile Clubbing event in a London train station to a giant pillow fight near the Eiffel Tower in Paris to a subway party beneath the streets of Toronto, it is clear that the urban playground is growing around the world, leaving more public and more social cities in its wake. This is the urban playground movement, a playful part of the larger public space movement.
One of our goals is to make these unique happenings in public space become a significant part of popular culture, partially replacing passive, non-social consumption experiences like watching television, and consciously celebrating public spaces in our cities as our "urban living rooms." The result, we hope, will be a global community of participants in a world where people are constantly organizing and attending these happenings in every major city in the world.
This project, Pillow Fight Day 2011, is a collaboration of many people who comprise a loose, decentralized network of urban playground event organizers all over the world.
Where: Waterloo Public Square, 75 King Street South, Waterloo
When: April 2, 2011
Time: 3:00-4:00
Bring: a pillow
For more information please visit website or sign up here.