Groundhog Day Meet-Up at KW Art Gallery
Written By: kdmarshall
|
February 1, 2011
|
Posted In: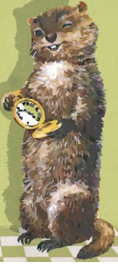 Wonderful Waterloo and the Kitchener-Waterloo Art Gallery, along with Gloss and the Little Mushroom are throwing a Groundhog Day party.
Warm up with a "6 More Weeks of Winter" fashion show by Gloss, enjoy great food by Little Mushroom Catering and meet up with your social media peeps in real life.
Of course, check out the official groundhog forecast, a few surprises too.
Where: Kitchener Waterloo Art Gallery, 101 Queen St N, Kitchener
When: February 2, 2011
Time: 7:00–9:00pm
Cost: Admission is free – Cash Bar – All are welcome.
For more information please visit website or see the flyer here.