Winterennmas at Kwartzlab Society for any Kitchener Waterloo Gamers
Written By: kdmarshall
|
January 28, 2011
|
Posted In: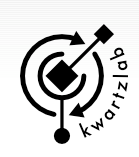 It's the second annual Wintereenmas at Kwartzlab! Game types include board games, dice, computer, consoles, handheld and arcade. Or, you can bring your own game, even if you made it yourself.
Kwartslab is a group of enthusiastic do-it-yourselfers with interests ranging from complicated circuitry and robotics to jewelry- and costume-making–and just about everything that might fall in between.  Located in Kitchener-Waterloo, their membership is drawn from the area.
Kwartzlab was born out of a desire to share the collective skills and knowledge and to enable members to spend time with similarly-minded people. They are first and foremost a social enterprise; but instead of golf and steeplechase, get together to put creative and DIY skills to use.
Sometimes, they just hang out!
Where: 283 Duke St W, Kitchener
When: January 29, 2011
Time: 3:00-6:00pm
For more information, please visit website. Here is the flyer.