Kitchener's Activa Sportsplex
Written By: kdmarshall
|
January 27, 2011
|
Posted In: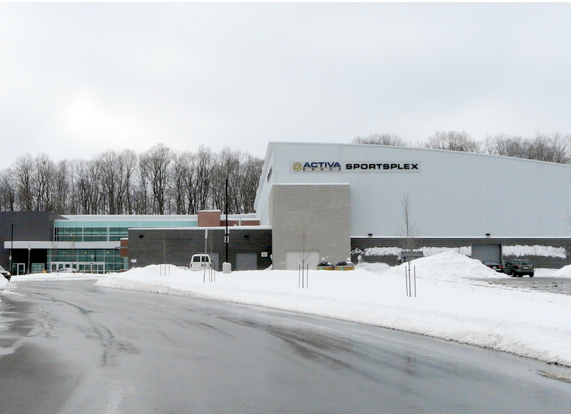 Activa Sportsplex is a 108,487 square foot multi-purpose athletic facility. Activa is a facility that thrives on energetic lifestyles of the young and old alike. Individual growth and skill development are encouraged through the various amenities offered, and a zest for life fills the building.
More than just an arena, it's an outstanding community athletic complex that serves the needs of participants in ice sports, summer indoor sports, boxing, as well as recreational walkers. By providing more recreational facilities for residents to use year round, the environmentally friendly Activa Sportsplex helps the city to achieve its objectives of improving the quality of life for its residents and minimizing its carbon footprint on the environment.
Amenities
Two NHL ice surfaces 200 ft by 85 ft
Twelve change rooms plus three officials change rooms all with access to shower and washroom facilities
Patrick J. Doherty Arena
Reserved seating for approximately 600
Kitchener Minor Hockey Association Alumni Arena
Bleacher seating for approximately 400
Arnie Boehm Training Centre (boxing facility)
7,500 sq.ft state-of-the-art facility
First permanent home in 60 years
Sun Life Financial Cardio Training Room
Located in the Arnie Boehm Training Centre
Cook Homes Ltd Study Area
Located in the Arnie Boehm Training Centre
Lyle S. Hallman Walking Foundation Track
A three lane walking track
Overlooks a mature forest and one ice pad
Open weekdays 8am till 4pm
For week nights and weekend use visit the pro shop for access to the track till 10 pm
| | | | |
| --- | --- | --- | --- |
| | Inside Lane | Middle Lane | Outside Lane |
| | 536 ft. | 555 ft. | 574 ft. |
| | 162.4 m. | 168.2 m. | 174 m. |
| | | | |
| 1 mile | 9.9 laps | 9.5 laps | 9.2 laps |
| 1 kilometer | 6.2 laps | 6 laps | 5.75 laps |
Murray Fried Community Room
Capacity for 40
Kitchener Minor Hockey Association Administration Office
Where: 135 Lennox Lewis Way, Kitchener
For more information please visit website
365 things to do in Kitchener Waterloo is brought to you by the Agents of Change – Alasdair Douglas and Keith Marshall – kwhomesandhouses.com. If buying or selling a home is in your future, interview us to be your agents.We think there is a better way…and so do our clients!