Get your finances in order at the Walper Terrace Hotel
Written By: kdmarshall
|
January 13, 2011
|
Posted In: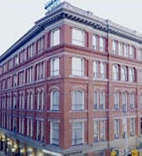 RIM & Chamber Young Professionals Presents: A Personal Financial Plan
Do you have, a budget, financial priorities? Do you understand the basics of banking, saving and investing?
What about student loans? Learn some financial do's and don'ts!
Where: Walper Terrace Hotel, 1 King Street West, Kitchener
When: January 13, 2011
Time: 5:00-7:00pm
Cost: $15 for non-members
For more information please visit website.