Two new restaurants in uptown Waterloo – The Embassy and Watami Sushi and Sake bar
Written By: kdmarshall
|
December 11, 2010
|
Posted In:
I was in uptown Waterloo and the other day and I noticed that we have a couple of new restaurants pretty much across the street from each other.
The first is the Embassy at 56 King Street North. I dropped in, but didn't have time to eat. l talked to the manager briefly and found out that the Embassy is owned by the Duke of Wellington (the pub not the person).  Actually, the Duke of Wellington has recently opened two other pubs in Waterloo Region. This one looks more like a lounge than a restaurant. I looked at the menu and it looks like tarted-up pub food and that's fine with me.
It's located where the short-lived Tyrone T's used to be.
Where: 56 King St. N., Waterloo
——-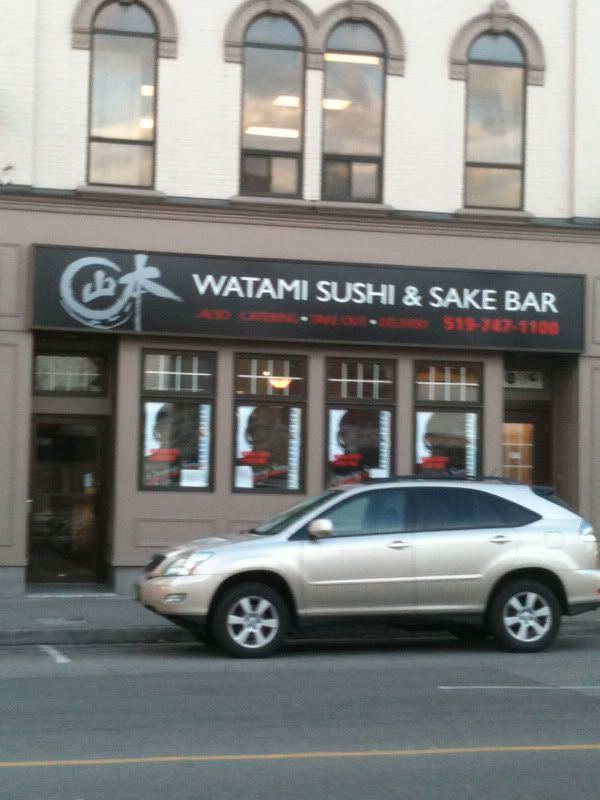 Watami Sushi and Sake Bar
The other new place that just opened in uptown Waterloo is a sushi and sake bar. It's located where Charbrie's used to be. Charbrie's was around for a long, long time and people either loved it or hated it.
We weren't fans of Charbrie's here at 365-KW, but we are fans of sushi. So if you're going or if you've already been to Watami, please let us know what you think.
Where: 15 King Street North.