No two are alike
Written By: kdmarshall
|
December 23, 2010
|
Posted In: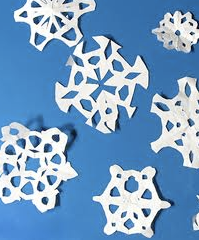 The first mention of a paper snowflake making dates back to 1345 when Rabbi Shem-Tov ben Yitzhak ben Ardutiel, finding that his ink had frozen, continued to write the manuscript by cutting the letters into the paper.
The paper snowflake was an instant success.
Today, as the snowflakes flutter down outside, get inside the Kitchener Market for some hot chocolate and make beautiful snowflakes to decorate your home. Children ages 8 – 12 will be excited and surprised as snowflakes take shape.
Where: Kitchener Market, 300 King St. E.
When: December 23, 2010
Time: 2:00 pm
Cost: Free