Kitchener's Fireside Restaurant
Written By: kdmarshall
|
December 6, 2010
|
Posted In: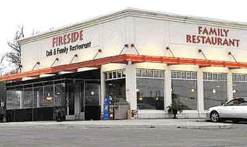 I was recently out for breakfast at the Fireside Restaurant. I had a ham and cheese omelet with whole wheat toast, crispy little home fries and unlimited coffee. It was a wonderful breakfast, bigger than I'm used to.
I can understand why there is such a long line up to get in on weekend mornings. The service was fast and efficient. The decor is warm and comfy. The parking lot is large and accommodating and the location is easy to get to.
The only other time I was here was seven or eight years ago when it was the newly opened Krispy Kream Donut Shop. Remember that? I only mention that because I won't be waiting another seven or eight years to go back again.
Where: 800 Ottawa Street South, Kitchener
Hours: Monday to Thursday 7 to 9 p.m., Friday and Saturday 7 to 10 p.m., Sunday 8 to 9 p.m.
Cost: The breakfast special was about $5.00