Ennio's for real Italian food in Kitchener Waterloo *Contest*
Written By: kdmarshall
|
December 2, 2010
|
Posted In: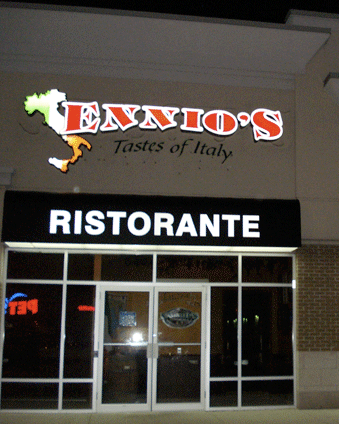 At Ennio's you will find authentic Italian cooking at its best. Ennio not only shares his prized recipes, he evokes the spirit behind his cooking. Ennio's invites you to experience the true Italian tastes that Ennio brought with him from Italy years ago.
Great food. European-style service.
They have an infinite variety of tastes that reveal one of the characteristics of the Italian people… THE LOVE OF FINE CUISINE!
Where: 384 King St N, Waterloo & 655 Fairway S, Kitchener
For more information visit website
Lunch menu
Dinner menu
______________________________
Contest: Be the first person to correctly answer this question.
Question: How many new residential units will the old Arrow Shirt factory condos add to downtown Kitchener?
Answer: To find the answer to the question, please visit my website at this link. Post your answer under this post's comments on www.facebook.com/365kw. The first correct answer posted wins this $25 gift certificate. If you've won in the last 36.5 days, sorry, you're disqualified.
______________________________
While here, you might "like" my real estate fan page. There are more contests coming up, always more things to do in Kitchener Waterloo.