The ultimate tribute to AC/DC
Written By: kdmarshall
|
October 8, 2010
|
Posted In: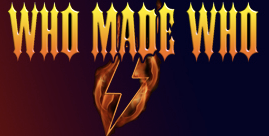 Who Made Who is without a doubt the most unrivaled tribute to AC/DC around. The power of Who Made Who mirrors the pure strength, energy, impeccable sound and larger than life stage production of an AC/DC show.
The band extensively tours Canada full time, and have a rock solid track record of delivering good, hard rock and roll to sold out venues across the country. They continue to intensify their performances and are driven to reach the perfect reproduction of a live AC/DC show.
Handling the vocals is a multi-talented singer that emulates both Brian Johnson and Bon Scott with exact accuracy. Along with detailed impersonations of each band member, which include the trademark school boy outfit,  and Marshalls loud enough to make your ears bleed.
With an immeasurable crew of multi-talented men with a combined 30+ years of experience in the music industry, Who Made Who is sure to give you the full AC/DC experience.
Only AC/DC does it better!
Where: Black Forest Inn, Conestogo
When: October 8, 2010
Time: 8:30
Cost: $53.95
For more information visit the Black Forest Inn