Let's get the party started – tapping of the keg
Written By: kdmarshall
|
October 8, 2010
|
Posted In: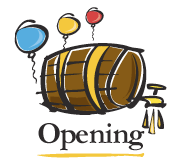 The fanfare of trumpeters will be sounding from the rooftops today beginning at 11:15 am, announcing the Official Opening of the 42nd annual Kitchener-Waterloo Oktoberfest, North America's largest Bavarian Festival. Since 1969, the Festival has grown from a weekend event in one Festhalle, to a nine day, internationally famous Festival that attracts over 700,000 participants.
Kitchener Civic Square will be bustling with pomp and ceremony, music and dancing, and the enthusiasm of thousands of revelers eager to begin the Festival.
Honoured guests and dignitaries will accompany our President, Paul Buttinger, the newly crowned Miss Oktoberfest and our favourite ambassador Onkel Hans in kicking off the nine days of celebration and the Spirit of Gemuetlichkeit.
This year's Kitchener-Waterloo Oktoberfest is bigger and better than ever with over 40 Family and Cultural events and Festhallen. There is certainly something for everyone at Kitchener-Waterloo Oktoberfest.
Where: Kitchner City Hall
When: Friday Oct 8, 2010
Time: 11:00 -1:30
Cost: FREE
Parking: Market Square parking garage. Duke Street Parking Garage
More information directly from Oktoberfest