Joan Baez's father invented the x-ray microscope. No way!
Written By: kdmarshall
|
October 12, 2010
|
Posted In: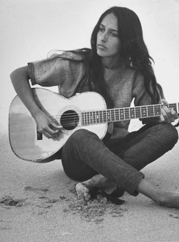 Joan Baez was born January 9, 1941 in Staten Island, New York. She is an American folk singer, songwriter and activist. Baez has a distinctive vocal style, with a strong vibrato. Baez began her career performing in coffeehouses in the Boston-Cambridge area, and rose to fame as a performer at the 1959 Newport Folk Festival. She began her recording career in 1960, and achieved immediate success. She helped to bring the songs of Bob Dylan to national prominence, and has displayed a lifelong commitment to political and social activism in the fields of nonviolence, civil rights, human rights and the environment. Although a songwriter herself, Baez is generally regarded as an interpreter of other people's work, having recorded songs by The Allman Brothers Band, The Beatles, Jackson Browne, Bob Dylan, Woody Guthrie, The Rolling Stones, Pete Seeger, Paul Simon, Stevie Wonder and many others.
Her father, Albert Baez, was born in 1912 in Puebla, Mexico. Her father first considered becoming a minister but instead he turned to the study of mathematics and physics, where he later became the co-inventor of the x-ray microscope. Because of her father's work in health care and with UNESCO, the family moved many times, living in towns across the U.S, as well as in England, France, Switzerland, Italy, Canada and the Middle East, including Iraq, where they stayed in 1951.
Joan became involved with a variety of social causes early in her career.
A friend of Joan's father gave her a ukulele. She learned four chords, which enabled her to play rhythm and blues songs, which was also the music she was listening to at the time. Her parents, however, were fearful that the music would lead her into a life of drug addiction. When she was 8, at her aunt's behest, Baez attended a concert by folk musician Pete Seeger, and found herself strongly attracted to his music.  She soon began practicing the songs of his repertoire and performing them publicly.
Where: Centre in the Square 101 Queen Street, Kitchener
When: October 13
Time: 7:00
Cost: $35- $65 ticket