An evening of new music at K-WAG with Freida Abtan, Holzkopf and Nick Storring
Written By: kdmarshall
|
October 22, 2010
|
Posted In: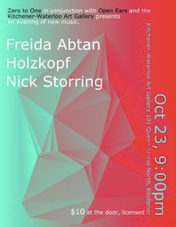 Freida Abtan is a Canadian multi-disciplinary artist and composer. Her music falls somewhere in between musique concrete and more modern noise and experimental audio and both genres are influential to her sound. Her work has been compared to bands such as Coil, and Zoviet France, and to that of performers such as Andrew Liles because of her use of spectral manipulation and collage.
Freida primarily works with samples of both musical and non-musical objects that she records herself and then manipulates, often beyond recognition, through techniques derived from musique concrète and through successive layers of digital signal processing. She uses structures reminiscent of popular music and more abstract compositional variants to sequence these sounds into melodic songs before incorporating her own treated voice.
As well as having created visual shows for and performed with the internationally renown group Nurse with Wound, Freida has presented her own sound and visual work at festivals across North America and Europe. Her first album "subtle movements" is available on United Dairies / Jnana Records. Her upcoming release "the hands of the dancer" will be available on Robot Records.
Since 2001, Holzkopf has been developing a style of hypnotic and frenetic dance music made from a mishmash of homemade tape collages, blown out drum machine beats, dumpstered Chinese pop cassettes, raw data noise, barely controled feedback and smashed and grabbed found sounds. The sound is remenicent of proto-industrial, disco, hip-hop, global psychedelia, gospel and breakcore synthesized into a complete unique whole unlike any one component part. This is futurist and anarchist music made on cheap gear, recorded live to tape or dusty old hard drives. It embodies the spirits of rotting architecture and 100 year old brothels, the wide open spaces of the Canadian prairies and the angst and anger of battling slum-lords, debt and panic. More than anything else though, the music is a celebration. Celebation, after all, is the best form of protest. Sharing the stage with Princesse Rotative, Cex, Andrew Duke, Maladroit, Bot Borg, the Shearing Pinx, Sam Shalabi and many others over multiple tours through Canada and Europe, in squats, clubs, backyards and under bridges, a Holzkopf performance is always a spontaneous, raw and one of a kind experience.
Toronto based musician, Nick Storring was born in Kitchener in 1981, and began Suzuki-Method cello training at the age of four. He still credits this early ears-first-style training with spurring on his interest in composition and improvisation.
Active as a performer/ improviser and composer, he is also an avid collector, and sometime music journalist. While active as a solo performer weaving psychedelic rhythmic improvisations with cello, vocals and electronics, he has also been a member of unsettling quiet-rock group Picastro since 2005, with whom he has toured in North America and Europe. Nick is also one third of electronics-heavy improv combo I Have Eaten The City. His enthusiasm and eclecticism has also led him to collaborative encounters in concert with Saidah Baba Talibah, Daniel Johnston, Rhys Chatham, Malcolm Goldstein, Owen Pallett, Damo Suzuki, Laura Barrett, Eddie Prévost, and Diane Labrosse and in the studio with Moneen, Polaris Prize Nominee Sandro Perri, and others.
He was awarded first place in the Canadian Electroacoustic Community's Jeux de Temps/ Times Play competition in 2008 for his broken-violin derived piece "Artifacts (I)".
His work has accompanied several plays for Kitchener-Waterloo based company the MT Space, and has been programmed at the Toronto Electroacoustic Symposium, The Experimental Sound Studio in Chicago, Open Ears Festival, Technische Universitat (Berlin), Sonic Arts Research Centre (Belfast), Musicacoustica Festival (Beijing), Soundplay Festival (Toronto), the ÉUCUE series at Concordia University and the 20th Anniversary of the Maison de la Culture NDG in Montréal. Nick holds an Honours Bachelor of Music in composition from Wilfrid Laurier University where he worked with Peter Hatch, Linda Catlin Smith and Glen Buhr. He is currently working on his MFA in Composition at York University under the supervision of David Mott.
Nick also contributes as a writer to magazines Musicworks, Exclaim!, and curated the blog End(-)of(-)World Music (currently on hiatus).
Where: KW Art Gallery, 101 Queen Street North, Kitchener
When: October 23, 2010
Time: 9:00pm
Cost: $10
For more information visit this page